---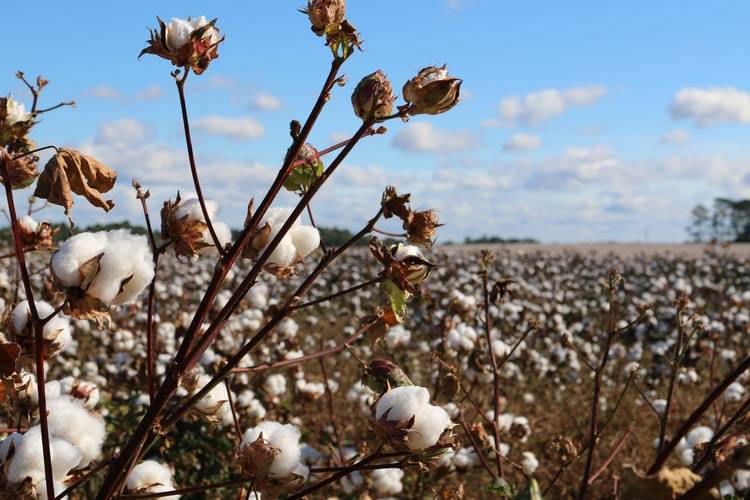 ---
Back in 1988 Komodo grew out of an epic travel adventure story. Inspired by the culture and colours of Asia and passionate about creating an eclectic mix out of Eastern and Western design ideas, Komodo became the label to watch at fashion shows in London, Paris, Florence and Tokyo. Our eco and natural fibre collections are designed in London and ethically manufactured in Nepal, India, China and Bali since 1988. One of the most important steps when building our collections is the fabric sourcing. We have a broad range of ethical fabrics and we want to share with you some interesting facts about them.
Today's topic is organic cotton, one of our most used fabrics. Soft and comfortable, the cotton fabric is used for almost every type of clothing, and it is clear to see how adopting organic cotton can impact us and our natural environment positively.
Significantly lower water usage is a huge benefit of organic cotton and organic production of cotton is often, though not always, supported by improved pay and working conditions for workers. For us as consumers, the fabric is softer, lowers our impact during the 'use' stage and the quality lasts longer as no chemicals have been used in the growth of the plant. Though it demands a higher cost, and impurities can appear to interrupt the colour of the fabric, these are outweighed by the awareness of our planet that we are cultivating and encouraging through a style that is sustainable and timeless.
1. The amount of water needed for 1 kg of organic cotton is 7,000 L. compared to the amount of water needed for 1 kg of non-organic cotton is 29,000 L.
2. Organic Cotton is the most skin-friendly, soothing and harmless natural fibre.This is the ideal material for protecting and cleaning newborn babies.
3. By avoiding toxic pesticides workers avoid health problems and deaths common in non-organic cotton production.This also reduces production costs and farmer debts.
4. Yearly produced amount of organic cotton: 25,000 tons.This is only 0.1% of the worldwide production is organic cotton.
5. Cotton is the most pesticide dependent crop in the world.Every T-shirt uses a quarter-pounders worth of toxic chemicals. Organic cotton uses non. It's better for the land, the water and the people...
---
Shop our Latest Organic Cotton Collection
---
---
---
Joe Komodo says...
"Recycle your Cycle!"