This time Komodo had the pleasure to interview Christine working for NUKUHIVA, the very first store to present different fair trade brands under one roof in Netherlands.
---
---
…a well-known Dutch television-host, Floortje Dessing came up with this brilliant idea: gathering brands which truly care about ethics. That's how, in 2006, she founded NUKUHIVA with two friends, Peter Schuitema and Guido Keff.

Nowadays, adapting to the changing retail world is a real challenge but NUKUHIVA has always stayed true in its heart. Being ethical and taking good care of customers are there priority.
---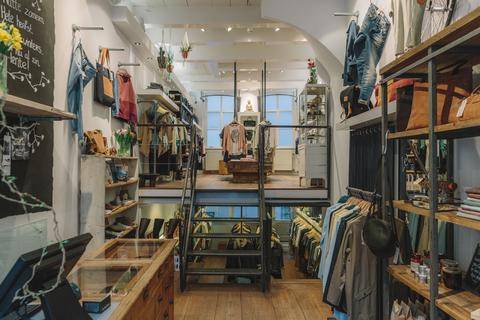 ---
"We learned to focus on quality instead of profit. We will keep working with a good team and quality products with a good story"
You are waiting for your favourite brand or item to arrive in store? Give your contact information to NUKUHIVA and they will give you a call.
Why would they do it?! Because they love happy customers!
 Their motto?
Fair Style – Fashion – Fair Products
"We think the market for ethical fashion will keep growing and we hope to see ethical fashion become the standard in fashion"
They are concerned with a lot of ethical issues, particularly recycling. It is such a waste that so many clothes are thrown away. They support brands that recycle fabrics into beautiful new items. They are now supporting a new brand from Holland: Blue LOOP Original. Recycling is its core business and its motto is: Born to be Reworn. They make 100% recycled jeans and t-shirts made of 25% recycled denim.
"We hope to inspire our customers to recycle."
---
---
At the moment, you can find two NUKUHIVA stores, one is in the lovely city of Utrecht and the other one is in the very famous Amsterdam. Among loads of ethical brands you can find : Kuyichi Jeans, ArmedAngels, Nudie Jeans, HoodLamb, Inti Knitwear, L'Herbe Rouge, Langerchen, Alchemist, Swedish Stockings, Knowledge Cotton Apparel, Wunderwerk, Armor Lux, Yunit, Mizu, Karigar, and Komodo of course !!
KOMODO and NUKUHIVA have been working together for 8 years now.
While we love NUKUHIVA's concept, they found in us a "reliable partner" and that is very nice to hear.
---
What's happening in 2016 for NUKUHIVA?
---
Floortje, Guido and Peter took over Kuyichi Jeans, a Dutch denim brand that is known for its organic items. Very good news as according to Christine a denim blouse is a must-have in every wardrobe.
"You can wear it buttoned up in winter and like a jacket in summer. Love it!"
They are celebrating their 10th anniversary: a fantastic beach party is planned !!!
"We are really looking forward to this event with everybody together who makes Nukuhiva a success through the years"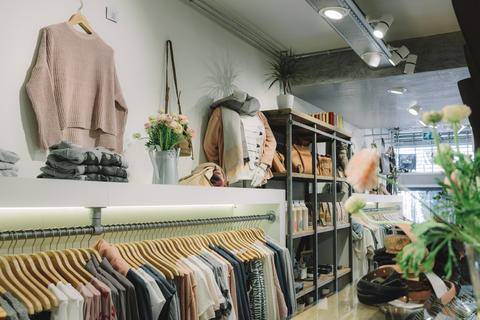 ---
Should you plan a trip to Utrecht ?
---
Beside the fantastic architecture and walks along the canals, Utrecht is city that cares a lot about environmental issues and where people are very aware of fair fashion,
"Every year a lot of volunteers work together and host a Fair Fashion Festival"
You could also try an amazing restaurant, Le Jardin, near NUKUHIVA. Perfect to have a break after shopping !
"Vegetables are the centre of every dish. Also they are real food artists. The plates look amazing"
---
---
---
---
What is your all time favourite item of clothing in your personal wardrobe – and why?
"A coral high waist pencil skirt, that I bought for €5 in a thrift store in Amersfoort. It is a beautiful, old, but still a very fashionable piece. I sometimes wonder who has worn it before me."
What's your favourite fashion designer ?
"At the moment Lynn Kate Rosdorff inspires me. She is a lovely designer from Utrecht with a slow fashion label. She recently made a bright yellow summer coat, which is dyed with curcuma. Lynn Kate dyes her own fabrics and uses only natural materials."
What your favourite piece from Komodo's SS16 Collection?
"I love the khaki wandi dress. It is sophisticated, beautiful colour and it has a 60's twist. Great dress!"
And finally…. Tell us a secret or a joke
"What's right is what's left if you do everything else wrong" - Robin Williams
---
---
---
---
---
NUKUHIVA Amsterdam
Haarlemmerstraat 36, 1013 ES Amsterdam
+31 (0)20 4209483
amsterdam@nukuhiva.nl
Monday: 12.00 – 19.00
Tuesday - Friday: 10.30 – 19.00
Saturday: 10.00 – 18.00
Sunday: 12.00 – 18.00
NUKUHIVA Utrecht
Zadelstraat 36, 3511 LV Utrecht
+31 (0) 30 2316738
utrecht@nukuhiva.nl
Monday: 12.00 – 18.00
Tuesday, Wednesday: 10.00 – 18.00
Thursday: 10.00 – 21.00
Friday, Saturday: 10.00 – 18.00
Sunday: 12.00 – 18.00
---
Joe Komodo says...
"Yellow is the new black"